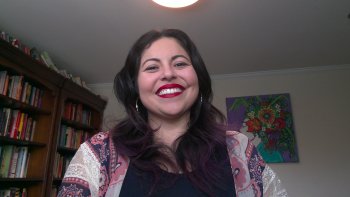 Stephanie Ojeda Ponce
Faculty
English
Phone: (206) 592-3867
Office: 18-109  
Mailstop:  18-1
Email: sojedaponce@highline.edu
Link: Highline College Puente Program
I was born in East Los Angeles, California and raised in Bakersfield, where I completed a B.A. and M.A. in English at California State University, Bakersfield. After completing my M.A. and Post-Baccalaureate Certificate in Writing, I moved to the San Francisco area to pursue a teaching career in higher education. In 2014, I moved from California to Washington for a tenured teaching position in the English department at Highline College. In collaboration with administrators and other instructors, I co-coordinate and helped found the first Washington state chapter of the Puente Program at Highline College. I culturally identify as Salvadoreña, Mexicana, and American. I teach with the goal of improving educational access and equity for students and educators.

Office Hours
Office hours are regularly scheduled times instructors are available to meet individually with students. These are good opportunities to ask questions or get help on assignments. My office hours are drop-in, first come first served. Just stop by!

If You'd Like to Pick-up an Essay from a Previous Quarter
I keep essays for one-quarter. For example, if you took my class in Winter, I will keep your essay until the end of the Spring quarter. Students can get back their final essay during office hours or by dropping off a self-addressed stamped envelope. The envelope should be 5x7 or larger and will need about $1 of postage, two forever stamps.