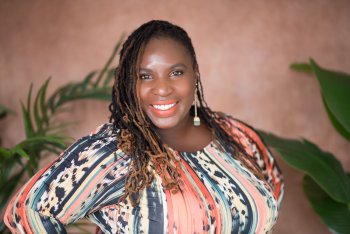 Dr. Samora Covington is a tenured professor in the psychology department where she teaches courses in general psychology, abnormal psychology, research methods, the psychology of human relations, community psychology. Dr. Samora also serves as the advisor for Psi Beta, psychology's national honor's society for community college students, and co-advisor for Active Minds, a nationwide psychology club focused on raising awareness about mental health and wellness for high school and college aged folx.

Dr. Covington is also a clinical psychologist and mental health and wellness consultant. Her work targets systemic inequities with a particular concentration on eradicating mental health disparities for marginalized and underserved racial/ethnic communities. She centers BIPOC individuals and communities and focuses on empowerment, identity and relational challenges, racial inequities, and trauma work. Dr. Samora's approach to transformation and healing is rooted in body-centered, narrative, and relational-cultural theories in clinical and community psychology. She incorporates psychodrama, creative expression, and somatic psychotherapy practices in her approach to healthy wellbeing as well.

Additionally, Dr. Samora is a certified Mental Health First Aid instructor through the National Council for Mental Wellbeing. MHFA is a training program that prepares community members to dismantle the stigma of mental illness, recognize the signs and symptoms of mental health challenges, and identify and offer appropriate resources to folx in need of support.

In her free time, she enjoys cooking, cycling, kayaking, hiking, listening to audiobooks, playing in the backyard with her dog, and practicing yoga with her husband. Her two newest endeavors are powerlifting and becoming a dance fitness instructor.