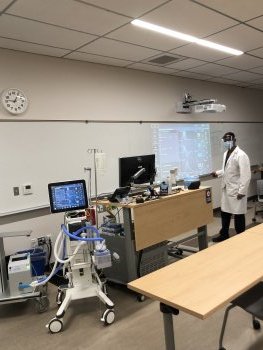 Pawlos Okubagzi
Faculty
Respiratory Care
Phone: 206-592-3485
Office: 26-238
Mailstop: 26-2
Email: pokubagzi@highline.edu
In 2004, I completed Highline College's Respiratory Care program and subsequently joined UW Medicine - Harborview Medical Center as a Respiratory Care Practitioner. Driven by my passion for Respiratory therapy, I furthered my education, earning a master's degree in respiratory therapy with a specialization in therapeutics and education. Additionally, I obtained advanced credentials such as RRT, ACCS, and RPFT in the field. Throughout my career as a Respiratory therapist, I have been honored with awards recognizing my commitment to academic achievement, patient care, continuous learning, and patient safety.
My passion and interest in teaching were ignited during my middle and high school years, leading to active involvement in mentoring my fellow school students. This dedication persisted during my time in the Highline Respiratory Care Program, where I supported fellow students through collaborative studying and mentorship. Following graduation and the start of my career as an RT at Harborview Medical Center, I eagerly transitioned into part-time clinical teaching roles while maintaining my full-time position as an RT.
In 2016, I took on a great opportunity by becoming a full-time Respiratory therapy instructor at Highline College. This marked the start of a fulfilling phase in my career. Concurrently, I also held a per diem clinical position at Harborview Medical Center, allowing me to balance my commitment to education with hands-on clinical experience. Over the years, I have taught various lecture courses, including Respiratory Care Pharmacology, Adult Critical Care, Mechanical Ventilation, Airway Management, Basic and Advanced Patient Assessment. Additionally, I have provided instruction in advanced hands-on practices within the lab, simulation, and clinical settings. My teaching has evolved to embrace collaborative learning with a rich involvement of evidence-based and community clinical practices. I emphasize the integration of real-world experiences into the learning process. My teaching assessment methods align with Highline College Respiratory Care Program goals, community, and national Respiratory Care standards.
As an individual of color with exposure to diverse backgrounds, cultures, and challenges, I understand the difficulties that students may encounter from various perspectives. I am devoted to consistently improving my curriculum and teaching methods to offer inclusive, equitable, and supportive education, all while upholding academic integrity.
To the new generation of Respiratory Therapists at Highline College, congratulations on selecting one of the region's top RT programs! I am fully committed to my role as an RT instructor, driven by enthusiasm and a passion for sharing my extensive experience in the field. By working together as educators and learners, we can easily achieve our shared objective.