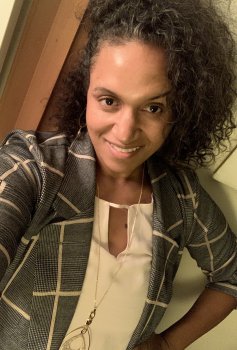 Greetings Scholars! Please allow me to introduce myself…

I have a Bachelor of Arts degree in History from the University of New Orleans and a Master of Arts degree in History from Southeastern Louisiana University.

I was born and raised in New Orleans, Louisiana. My family and I moved to WA in 2014, but we returned home to Louisiana in 2020 because we wanted to be closer to our family during the height of the Covid-19 pandemic.

Before I began teaching here, I was involved in equity and inclusion work at The Evergreen State College in the aftermath of the 2017 protest. Currently, I am a IT Business Analyst working at The Evergreen State College AND I teach History and African American Experience at Highline College. I also teach Organizational Behavior at South Seattle College.

Since the age of 13-years-old, I have active in social justice. With the assistance of Representative Beth Doglio and the championship of Mona Das, former WA State Senator, I was able to pass my bill, Senate Bill 5044, "Concerning professional learning, equity, cultural competency, and dismantling institutional racism in the public school system."

I also believe in anti-racist teaching and that I play a critical role in disrupting racism and decolonizing our curriculum. I do not believe in remaining silent because I do not abide by being complacent. My commitment to students is to listen to them and learn from them. In my classroom, students have agency as collaborators in their education.