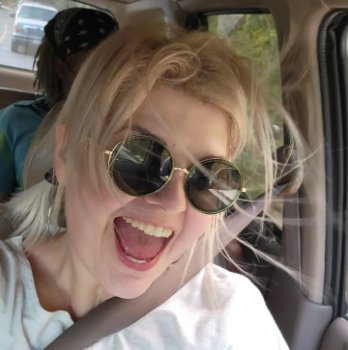 Hi there! I'm Jodi White. I'm full-time faculty in the Education Department and am currently Department Coordinator. I use she/her/hers for pronouns and you can call me Jodi, if you're comfortable with that. If not, you can call me Ms. Jodi, Professor, Professor White, Hey You...basically anything but "Mrs. White". Please don't call me that.

I grew up in rural Ohio, surrounded by fields of corn and wheat and soybeans, and was the first person in my family to go to university - yep, a proud first gen college student! I give all the love and gratitude to my parents who pushed me toward that goal. In 1991 I moved to Seattle, where I lived on Capitol Hill, in the CD, and finally the incomparable White Center neighborhood, where I've resided since 2010. I have a large, (very) hairy, (very) rambunctious German shepherd/husky mix dog, and I like to garden, play the musical saw, and do geeky things, like mess around with 3-D modeling and play virtual reality games. I also really like to eat and am a bit of a foodie, an interest I share with my husband, John.

I've been teaching at Highline since fall of 2005. My background is in early learning – I've been a substitute teacher, a teacher, a lead, a program supervisor and director. I was the director of two different programs in Seattle and have also taught as a teacher in a cooperative preschool, worked as a coach and a consultant, and was a trainer for the Washington State STARS system. Currently I'm tenured faculty here at Highline and teach numerous classes in the Education Department, as well as Critical Thinking for Equity, a humanities class housed in the Diversity and Global Studies Department.

Philosophically, I'm a social constructivist, valuing that we all come into new situations with knowledge already. Then we get exposed to other information, combine it with what we knew already, and boom! New knowledge! What's more, is that we do this best when we have trusting relationships with other people - without trust, we don't want to ask questions or take risks and these are critical for learning. I'm passionate about social justice and equity. I know that all of our lives (and education) are influenced by our identities – race/ethnicity, class, gender/gender identity, sexual orientation, ability, religion…all of these and more impact our experience and how we see the world.

Curious about anything else? Feel free to ask me! I look forward to getting to know you.