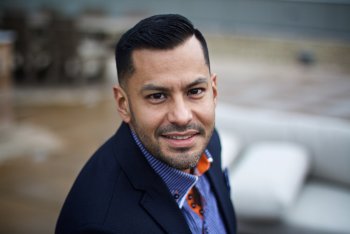 Joshua Magallanes
Faculty Counselor
Counseling Center
Phone: (206) 592-3998
Office: 6-232
Mailstop: 6-10
Email: jmagallanes@highline.edu
Joshua Magallanes has a critical analysis about adolescent development for queer individuals happening later in life. He believes that the same process that one experiences when coming of age as an adolescent, applies to one when they identify as GLBTQI, regardless of age, tend to struggle and experience their first internal conflicts a second time. As individuals get older, he refers to this time in life as one's "gay adolescence," as when one is experimenting while trying to find community. We are creative and tactical: we are forced to lead double lives while at the same time feeding just enough of our self in order to survive. He also believes that it's these exact social constructions that shape our everyday views and influence how we view what it means to be a man, or masculine.

Joshua earned his Bachelor of Science from Northern Arizona University. In 2004, he moved to Seattle where he later began working at Highline Community College that same year. Joshua received his Masters in Community Counseling from Seattle University. He has also worked as a consultant for Edmonds School District, where he provided training for professional development for K-12 staff and administrators.

He has worked in higher education for the past13 years for both universities and colleges. Through his work, Josh explores the societal expectations placed on communities of color and Queer communities across the state, regionally and nationally as a way to continue to raise awareness and create change through facilitated workshops and presentations.

Joshua has been spoken and led workshops such as the Students of Color conference, Annual American Counseling Association and Black and Brown Male Summit, and has also sat on boards for scholarship selections. Joshua is also committee chair for the LGBTQIA Task Force at Highline Community College and was also board of directors for Gay City Men's Health Project.

Mr. Magallanes is also faculty at Highline College where he teaches courses under the Human Services Department and Diversity and Globalism Studies, including "The LGBTQI Experience". Additionally, he provides therapy in his private practice for individuals, couples, families, and facilitates process groups. His special interest areas for therapy are working with students who have depression or anxiety, sexual identity/orientation, oppression awareness and career/life exploration.

Josh believes the developmental process is never a road that is paved or less traveled; the way we travel it and experience it are what makes us marvel at the amazing products along the way.

In his free time, Josh enjoys playing and coaching softball, traveling to new places, enjoys white water rafting, camping and fishing under the liquid sunshine, and spending time with family and friends.