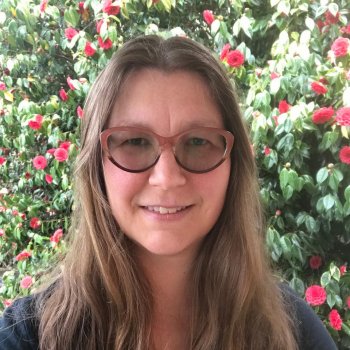 Angela Hyland
Part Time Faculty
English Language, Career and Academic Prep
Phone: (206) 592-4600
Office: 19-109
Mailstop: 19-1
Email: ahyland@highline.edu
My family has lived in the U.S.A. for three generations. My ancestors came here from Germany, Norway, England and Ireland. My father was in the U.S. Air Force, so I've lived in many different places. I was born in the Philippines, in Angeles City. This is probably where I got my fabulous first name! My favorite place to live, though, was Wiesbaden, Germany. I learned a little German during my three years there, but I'm afraid I've forgotten most of it.

Growing up, I moved every year or two. It was fun to see so many new places, but it was hard to move away from friends so often. I moved to Seattle when I was in my early 20s. I spent a month driving across the country, visiting many national parks and forests along the way. In my mid 20s, I studied Spanish, then spent a month in Nicaragua. I stayed with a host family in Esteli, and I did my best to speak no English for that entire month. It was a lot harder than I expected!

These days, I still love to travel, but now I do it with my family, and we stay closer to home. My wife and I have been together for nearly 20 years. We have two young children. We enjoy a lot of outdoor activities: camping, riding bicycles and gardening. My family also loves reading, playing games, and connecting with friends. One of my hopes this quarter is that our class will provide a place where we can all learn, play, grow, and connect to one another online.