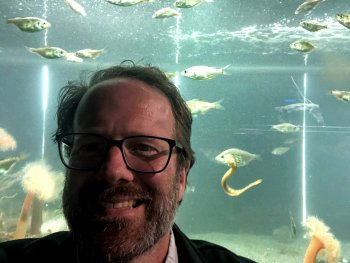 Rus HIGLEY
Director, MaST
Life, Ocean, & General Sciences
Phone: (206) 592-3135
Office: MaST
Mailstop: 29-3
Email: rhigley@highline.edu
Link: Link to schedule Virtual Student Hours
Link: MaST Center Link
For winter quarter 2021, links to my virtual office hours are available https://outlook.office365.com/owa/calendar/RusHigleyOfficeHours@highlinecc.onmicrosoft.com/bookings/ or use the tab "link to schedule Virtual Student Hours" in the office hour list below.

If you are unable to access those are or are not a student, please reach out to me via email to set up a time or access to those meetings.

Besides teaching in mostly Oceanography and Marine Biology in the Life Ocean and General Science department, Rus is also the Director of Highline's MaST Center, the marine lab and aquarium located about 10 minutes south of the main campus. For more info about the MaST, check out http://mast.highline.edu including directions.