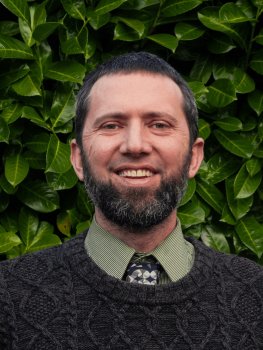 Dusty Wilson
Faculty / Pure & Applied Sciences
Mathematics
Phone: (206) 592-3338
Office: 26-306
Mailstop: 26-3
Email: dwilson@highline.edu
Link: Visit my website
Link: First day video
I was raised by hippies in a log cabin in the woods. I home schooled, did two years of Running Start in Olympia. After this I earned my BA in 1999 from TESC in political science, literature, and mathematics. In 2001 I completed my MS at WWU in mathematics. This is the start of my 20th year teaching and I am presently honored to serve as chair of science and math at Highline.

I enjoyed teaching when I came to Highline and love it more each year as I grow as a teacher and get the privilege of working with students and impacting our culture through education.

I enjoy teaching mathematics at all levels although I've taught a lot of infinite series in the last year. I've taught most of the classes we offer at Highline and I guess that is because I am amazed by all of mathematics!

A few years back, I was privileged to take a sabbatical (time off of teaching) to research the philosophy of mathematics (what is math, where does it come from, and what is its purpose). I've continued to work on this question and recently have given a number of talks on what I call a triune philosophy of mathematics.

I am the faculty adviser to a student group called Cru. Cru is a caring community passionate about connecting people to Jesus Christ. Some fun stuff I've done recently with Cru includes: My first white water rafting trip where we got to go over the top of a dam. Five weeks at Lake Tahoe mentoring students and receiving leadership training! Cru is open to all students regardless of religious belief and meets Wednesdays at 12:30 pm on Zoom (email for details).

My beautiful wife Charlene and I have been married for 6,869 days (which is a prime number) as of this printing. We have three children and zero televisions. I enjoy reading, boomerangs, budgeting, facebook, and remodeling. I usually bike or walk to Highline so please be kind to pedestrians.

Another interest of mine is musical theater. My parents met in the in 70's in the musical "Godspell" and I've been in a couple of shows including doing an Elvis impersonation role and more recently taking part in a production of "Beauty and the Beast" with my wife and children.

I am also a Christian which means much more than attending church on Sundays. It is the foundation of everything I do and and I hope you will see that it makes a difference in the way I serve you.

If you want to know the rest of my story, you can read about it at www.meettheprof.com or on facebook at www.facebook.com/dustywwilson.