Jennifer Heckler
Honors Program Manager, English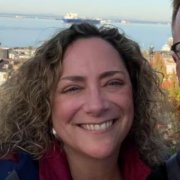 Phone:
206-592-3331
Office:
18-210
Mailstop:
18-1
Email:
Hello!

I teach multiple classes at Highline, including Honors 100 and 101; English 101, 205, 235, and 335; and Communication Studies 101, 102, and 220.

I also manage the Highline Honors Program, which provides students with opportunities to transform their college-level classes into Honors courses through research projects, class presentations, internships, and service-learning projects. During this transformation, students learn and apply the skills for successfully transferring to 4-year colleges/universities or transitioning to their career fields.

I invite you to stop by during my office hours or email/call me if you have questions about the Honors Program, the English Department, or the Communication Studies Department. I'm here and happy to help.


Honors Program: https://honors.highline.edu/
English Department: https://english.highline.edu/