Jennifer Heckler
Honors Program Manager, English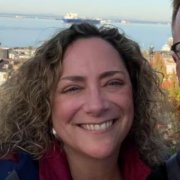 Phone:
206-592-3331
Office:
18-210
Mailstop:
18-1
Email:
Hello!

I teach Honors 100 and Honors 101 and coordinate the Highline Honors Department. The Honors Program provides transfer, professional-technical, and BAS students with opportunities to enroll in core Honors classes and to transform their college-level classes into Honors courses through research projects, class presentations, internships, and service-learning projects. During this transformation, students learn and apply the skills for successfully transferring to 4-year colleges/universities or transitioning to their career fields.

Students who successfully complete all of the requirements of their Honors Program pathway may qualify for a merit tuition scholarship in their final quarter at Highline.

I also work closely with Mutallip Anwar, who teaches Honors 299 and advises the Phi Theta Kappa Honor Society.

I invite you click on the following link to learn more about the Honors Program and Phi Theta Kappa. Please also stop by during my office hours or email me if you have questions about the Honors Program. I'm here and happy to help.


Honors Program: https://honors.highline.edu/
Phi Theta Kappa: https://ptk.highline.edu/